Ubertris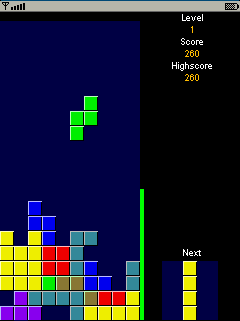 Ubertris is a Tetris-Clone for J2ME. It has been reported to work on Siemens S65, Motorola V360 and Sony k700i phones.
Features
small
addictive
low power consumption compared to most other open source Tetris-Clones available (timer based instead of busy loop)
the game can be interrupted and resumed later
it's free
Requirements
License
Ubertris is distributed under the GNU General Public License.
Downloads
Latest Binaries
ubertris.jad
(218 B)
ubertris.jar
(18.5 KB)
license.txt
Latest Source Code
ubertris.src.tar.gz
(17.9 KB)
ubertris.src.tar.bz2
(16.4 KB)
Changelog
Version 0.1.6, Released 2006-08-17
fixed progressbar scaling bug
Version 0.1.5, Released 2006-08-09
fixed exception on first startup
progressbar shading
corrected midlet-url in midlet properties
Version 0.1.4, Released 2006-03-21
faster startup
reduced size
Version 0.1.3, Released 2006-03-20
progress bar wasn't rendered properly resuming game
Version 0.1.2, Released 2006-03-20
resuming ubertris sessions is now actually possible
Version 0.1.1, Released 2006-03-19
Known Bugs & Issues
Menu doesn't work on some Nokia phones.
Contact
For feedback, feature requests, etc... feel free to mail me.
If you would like to see more projects or features here, you can always try to motivate me using Paypal donations ;)